The web cams used at NTAC in 2015 were highly successful and received massive exposure with over 40,000 visits to the website over winter! These web cams benefited not only our members but the wider public with organisations such as the Ben Lomond Management Committee linking into our webcam footage.
We received excellent feedback about the positive benefits of having footage of the mountain available, particularly given our unique location on the mountain.  If you would like to tell us about how the webcams were useful to you, or would like to offer any advice to assist us in moving this project forward please email us at webmaster@ntac.org.au.
Our goal with the web cams is to increase participation in outdoor physical activity on the Ben Lomond National Park, during summer (bush walking, mountain bike riding and enjoying a wilderness environment) as well as alpine activities. By looking at the web cams potential visitors and school groups can personally access snow and current weather conditions. We are busy fundraising so that we can purchase web cams, so that we can continue to offer this service in the future.
NTAC Top Slopes Web Cam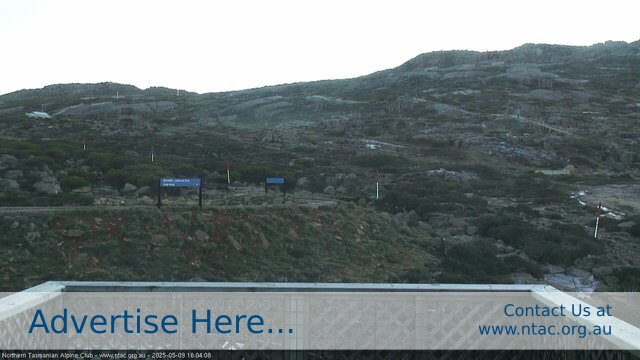 This image is from NTAC Lodge looking over the top slopes towards the Fannies T-Bar and updates twice each day, or every 15 minutes when our generators are running. Click on the image to view full size image.
Something extra…?  How about time lapse web cams?
We know that many of you would like to watch the snow accumulate (and of course not look when it's washing away) so we've trialled the use of daily web cam images in 'time lapse' style slide shows to check out the potential benefit.